Know Safety. No Incidents.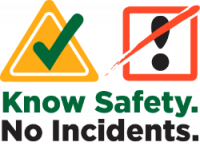 Safety and Security project success is dependent upon maintaining a safe and incident-free workplace.
AIM World Services' "Know Safety, No Incidents" program underscores our commitment to safety through continual monitoring and personnel/team rewards for zero incident projects.
Our Ongoing Safety Training Includes:
Daily Standup Tailgates at the start of each work shift
Weekly Toolbox Talks: OSHA safety training consistent with current activities
Weekly Supervisor/Foremen meetings to review Activity Hazards
Assessments (AHAs) and the techniques and tactics to mitigate incidents
Illustrative OSHA Safety Bulletins featured on our Site Bulletin Boards
AIM's Security Policies and Procedures are implemented throughout the course of the contract. During orientation, all employees are trained on security protocols, including awareness to identify and report potential threats.