AIM World Services – Somalia recognized by the U.S. Government for outstanding service
We are pleased to announce, AIM World Services team in Somalia has been recognized for their outstanding service by the OSC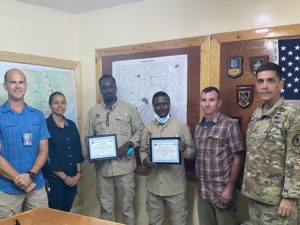 (Office of Security Cooperation), MCC (Military Coordination Cell), AFRICOM (Africa Command US), CJTF (Combined Joint Task Force), SOCAF (Special Operation Command Africa), JSOTF (Joint Special Operation Task Force), US Embassy – Somalia as well as the Somali Military.
Special mention should be given to our Liaison Officers, Yusuf Abdi and Abdifatah Sayid Ahmed,for successfully coordinating the receipt, customs clearance and accountability of thousands of defense items worth over thirty million dollars in support of the U.S. mission to improve security for the people of Somalia.
In addition, during the COVID-19 crisis, our team has consistently demonstrated our ability to deliver services under extremely challenging circumstances with zero interruption to the operations in country. Our team has shown steadfast professionalism, a tireless work ethic and exemplary management during these difficult times.
About AIM World Services
Established in Houston, Texas in 1997, AIM World Services, Incorporated provides turnkey solutions and scalable services to its Government, Infrastructure and Oil & Gas customers worldwide. Often working in the most challenging environments, AIM has operated in 45+ countries rapidly responding to contingency and emergency situations. Their service offerings include talent acquisition, life support, housing and catering services, workforce administration, construction, facilities operations and maintenance, and procurement and logistics support, among other services.
For more information about AIM World Services go to AIMworldservices.com or call (281) 847-2000